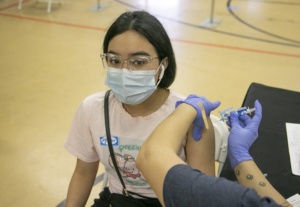 A live DJ, classic cars, free food and free COVID-19 vaccines.
This was the scene at a pop-up vaccination clinic set up Saturday morning at Grant Park with the goal of encouraging and providing easy-to-access vaccines for the communities of districts 7 and 8 in Phoenix.
A row of canopies shaded a concrete path to the basketball gym where vaccination registrations had opened up at 8 a.m.
People stood in line under the shade — some with kids between ages 12 and 18 who had recently been green-lit for the Pfizer Vaccine.
Those over the age of 18 could choose which vaccine to take. The clinic had all three vaccines available: Pfizer, Moderna and Johnson and Johnson, according to the Arizona Department of Health Services Director Dr. Cara Christ.
Vaccination through community collaboration
The event came together through a partnership between the Arizona Department of Health Services and the One Community Initiative of the Equality Health and Herozona Foundations.
The partnership grew out of COVID-19 testing events held earlier in the pandemic, Christ explained.
"We got a much better showing when it was trusted healthcare leaders from the community," she said.