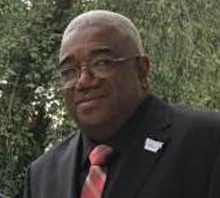 Dennis E. Prince
American Legion Post 65 Sons of American Legion (S.A.L.) Commander
State Oratorical Judge for the American Legion Post 65
Retired Kyrene School District Educator
Dennis E. Prince Sr. has been American Legion Post 65 S.A.L. Commander for 25 years. He is committed to helping our veterans and their families. Through his years of commitment, he has been able to reach and impact thousands of veterans through the programs he creates at the American Legion. Programs like Honoring our Fallen Heroes, which provides dinner and care packages during Veterans Day week to our homeless veterans who has come upon tough times or giving out Christmas baskets to veteran's families during the holidays. He is also honored with the privilege of being the burial flag barrier in the annual Ahwatukee Easter Parade.
Being part of the community does not end at the American Legion, Dennis is a door keeper for the Lord at Pilgrim Rest Baptist Church, Bishop Thomas Pastor. Dennis' greatest attribute is his continuing drive to serve and help others. For him there is no greater glory then to serve your fellow man.
Being a retired educator, Dennis has been a strong advocate for education and improving the quality of life. During his time as an educator he initiated cultural and African-American history programs at Kyrene Akiemel A-al Middle School including Patriotic Day, an annual event the school celebrates and honors all veterans. He was very instrumental in creating new and innovation programs for learning and achievement during his time being an educator.
Prior to being an educator, he worked in retail management throughout the Midwest, gaining valuable leadership and teamworking skills at companies like Sears, Zayre, Dayton's and Marshalls.
Dennis graduated from Upper Iowa University with degrees in Business, Sociology and Education. He also received a Masters of Education from the University of Phoenix.
Dennis is married to Linda and presides in Phoenix, Arizona. His greatest ambition is to leave a legacy that his grandkids Dallas & Juel, son Dennis Jr. and daughter Dedtra, could be proud of.