Veterans Reach to Teach
The Veterans Reach to Teach initiative was created to lower the large number of teacher vacancies by connecting Veterans to those teaching opportunities.   The Foundation saw the opportunity to bridge the more than 532,000 veterans living in Arizona, with the over 1,700 vacancies in local schools.   Our program will assist Veterans and their spouses earn their Substitute Teachers and/or Permanent Teachers Certifications to serve in the classroom.
News Coverage
12 News Veterans Reach to Teach coverage
http://www.bizjournals.com/prnewswire/press_releases/2017/04/26/LA72227
The Herozona Foundation with the City of Phoenix, Roosevelt and Laveen school districts will be honoring military veterans in the classroom presenting more than 10,000 toys to celebrate National Teacher Appreciation Week to honor our Veteran Teachers.  We will launch the event on Tues., May 2, 8am-10am, at The Salvation Army Ray & Joan Kroc Corps Community Center (www.krocphoenix.org), 1375 E. Broadway, Phoenix 85040.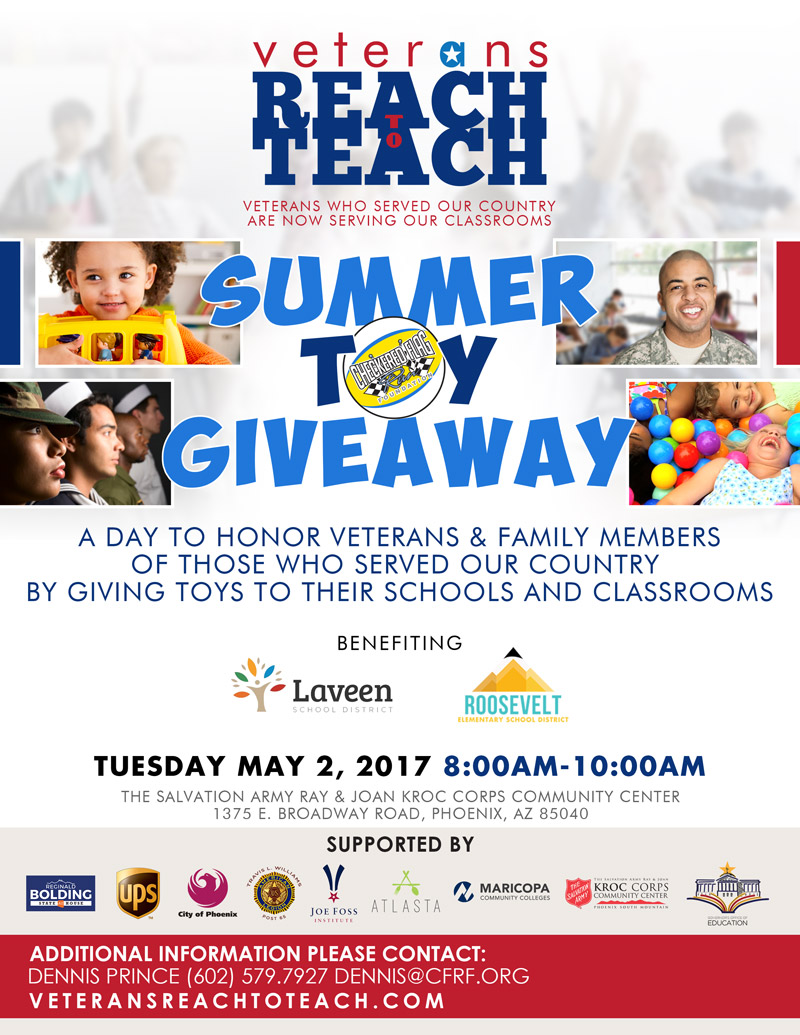 Veterans Reach to Teach Sign-up (Veterans & Spouses)
Our Mission
The mission of HeroZona Foundation is to create and empower Heroes in our communities.
Upcoming Events
Phoenix Tools 4 School
July 2023
More Details
Drive Thru backpack and supplies giveaway event for students K-8. Empowering our future leaders to ensure they start the school year off right!