Phoenix Area My Brother Keeper: Sports Box Dialogue to Feature Local Area Sports Legends and Executives to Encourage & Inspire Over 500 Students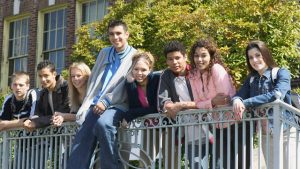 (Newswire.net — August 19, 2015) Phoenix, AZ — My Brother's Keeper: Sports Box Dialogue has lined up an all-star panel of former Phoenix area professional athletes to share their personal stories of sports, education and perseverance while encouraging middle school and high school students to pursue opportunities beyond the field, race track and court.
This is a free event to be held on September 12, 2015 at Pilgrim Rest Baptist Church in Phoenix is presented by the Checkered Flag Run Foundation (CFRF). This event will be co-presented by: The Black Chamber of Arizona, Arizona Hispanic Chamber of Commerce and Arizona Informant newspaper. This My Brother's Keeper: Sports Box Dialogue event is one of several Phoenix area initiatives aligned with President Obama's My Brother's Keeper Community Challenge that was accepted by City of Phoenix Mayor Greg Stanton and District 8 Councilwoman Kate Gallego.
The event will feature an esteemed panel moderated by the Honorable Art Hamilton and will include:
· Simeon Rice, former Arizona Cardinal, Three-Time Pro-Bowl Selection, Four-Time All Pro Selection and 2003 Super Bowl Champion
· Augie Ojeda, former Arizona Diamondback
· Cedric Ceballos, former Phoenix Sun, 1992 NBA Slam Dunk Champion, NBA 1995 All-Star Selection
· Adrian Williams, former Phoenix Mercury, 2003 WNBA All-Star Selection
Former NASCAR Truck Series Driver, T.J. Millington, will also attend the event, along with several local executives, including Robert Sarver, owner of the Phoenix Suns and Phoenix Mercury, Bryan R. Sperber, president of Phoenix International Raceway and De Jon Watson, senior vice president of operations for the Arizona Diamondbacks.
The Checkered Flag Run Foundation is a nonprofit organization that provides educational and enrichment resources for students designed to help prepare and motivate them to seek education beyond a high school diploma. The CFRF's mission is "investing in education to ensure every student gets across the finish line".
"As the school year commences, we want to begin planting seeds in the minds of our youth that will sprout ideas, goals and dreams that will position them for success in the near and distant future," said Alan (AP) Powell, founder of the Checkered Flag Run Foundation. "Our panel's unique experiences will provide great insight for local youth and help them to begin putting their future in perspective. We want our youth to see the big picture and the opportunities that education can afford them."
"Even though the likelihood of a young athlete pursuing a career in professional sports is quite low, the graduation rate of college athletes is over 80 percent," Powell continued."
The first 500 youth in attendance with an accompanied adult at the MBK: Sports Box Dialogue event will receive complimentary tickets, shirts and round trip transportation from Pilgrim Rest Baptist Church, to Chase Field for the Arizona Diamondbacks game against the Los Angeles Dodgers that evening.
MBK: Sports Dialogue Sponsors include: Arizona Diamondbacks, University of Phoenix, Pocket Teller Inc., Superstition Springs Jeep Chrysler Dodge, MESA Air, Phoenix Police Department, Rose+Moser+Allyn PR and Think Zilla PR. In addition, vendors will be onsite offering information on internships as well as job and volunteer opportunities for those in attendance.
For more information and to register for MBK: Sports Box Dialogue, visit http://cfrf.org The event will be held at Pilgrim Rest Baptist Church (1401 E. Jefferson St., Phoenix AZ 85034) from 1:00 p.m. until 3:00 p.m. Doors will open at noon. For additional information on this event, call: 602.258.0831.
About Checkered Flag Run Foundation
The Checkered Flag Run Foundation is a 501c3 charitable organization that makes available school readiness tools for elementary and middle school students, career educational resources such as career inventory assessment/workshops for high school students to close the gap, and serves to increase educational attainment beyond a high school diploma.
Checkered Flag Run Foundation
4455 East Camelback Road, Suite D-280
Phoenix, AZ 85018
United States
CFRFinfo@gmail.com