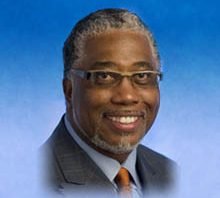 Michael E. Johnson
Board Member
Former Vice-Mayor, City Of Phoenix & Former City Councilman, District 8
Partner, Johnson Neeley Public Strategies
Michael E. Johnson is a local community leader who believes that the elements of collaborative leadership and hard work are an unbeatable combination.  Johnson is a founding partner at Johnson-Neely Public Strategies.  He is also a former member of the Phoenix City Council, Phoenix Police Department and business owner.
Johnson-Neely Public Strategies is a boutique government relations firm located in Phoenix which provides services in public policy advocacy, community relations, business development and association management.  Johnson works with clients on projects in the areas of local, state and national government relations, law enforcement diversity impact, professional human relations,    strategic planning, and small, local, minority and disadvantaged business relations.
Michael Johnson served three consecutive terms on the Phoenix City Council from 2002 to 2013.  He represented District 8, which encompasses portions of central, east and south Phoenix.  His focus was on his commitment to improving quality of life for his constituents.  Putting his spirit into service, Johnson held essential roles in the development of economic, sustainable projects which impacted the district and city, many of which brought infrastructure into underserved areas.  Some of these projects include the addition of light rail and expanded bus transit services; the downtown education zone comprised of the Bioscience High School, Arizona State University and University of Arizona; the downtown Sheraton Hotel; the transformation of the Civic Plaza into the Phoenix Convention Center; the Legacy Village shopping and dining center at 24th Street and Baseline Road in south Phoenix; and multi-million dollar projects at Sky Harbor International Airport, which include terminal renovation, new airlines and the Sky Train people mover system.
Johnson was a member of several City Council subcommittees during his tenure.  He was chair of the Downtown, Aviation, Economy and Education City Council Subcommittee, and was a member of the Finance, Efficiency, Innovation and Stability Subcommittee, the Public Safety, Veterans, Transparency and Ethics Subcommittee, and the Transportation and Infrastructure Subcommittee.  He chaired the Phoenix Economic Partners Board of Directors, and was a member of the city's Audit Committee.  He also was on the board of directors for the Downtown Phoenix Partnership and the Greater Phoenix Visitors and Convention Bureau.
His dedication to strategic leadership lead to national opportunities.  He was a member of the National Black Caucus of Local Elected Officials (NBC-LEO), a constituency group within the National League of Cities which represents the interests of African American elected officials, and was elected to serve on its
board as president.  While president, he created a luncheon to foster increased partnership between NBC-LEO and the Congressional Black Caucus.  His presidency provided him a seat with the National Policy Alliance, an 11-member coalition of African American local elected officials and policy-related organizations which meets regularly with President Barack Obama to address policy matters.  He also served on the Advisory Board of the National League of Cities.
Michael Johnson has expert experience in law enforcement and public safety after more than 21 years of service in the Phoenix Police Department.  During his time with the Police Department, he received training in several subject areas, including crime prevention, mediation, investigations and various cultural diversity topics.  He was honored as Detective of the Year in 1992, and retired in 1995 as a homicide investigator.
Johnson's background also includes entrepreneurship.  He briefly joined the private sector after opening Nkosi, Inc. in 1996, a security and investigation firm, where he served as president and chief executive officer until he began his first term in public office.  This experience set a base for his support for the local business community, and he became a vocal advocate for the Small Business Enterprise (SBE) & Disadvantaged Business Enterprise (DBE) programs sponsored through the city of Phoenix.
LOCAL AND NATIONAL ORGANIZATIONS – Active Membership
St. Luke's Medical Center/Tempe St. Luke's Hospital, Board of Directors
Maricopa County Planning and Zoning Commission
Jewish Family and Children's Services, Board of Directors
Herozona Foundation Board of Directors
A Better Road Foundation, Board of Directors
University of Phoenix
College of Security & Criminal Justice (Industry Advisory Board)
AWARDS AND RECOGNITION
National Black Caucus of Local Elected Officials, Outstanding Leadership Award
National Forum for Black Public Administrators, National Leadership Award
Downtown Phoenix Partnership, two-time recipient of the Dreamr Awards
Greater Phoenix Black Chamber of Commerce, Chairman's Award
Greater Phoenix Convention & Visitors Bureau, Visitor Industry Champion Award
Maricopa County NAACP, Roy Wilkins Award for Outstanding Leadership
Maricopa County NAACP, Outstanding Leadership in Politics Award
National Council of Negro Women, Inc., Phoenix Section, President's Award